This post is also available in: Català (Catalan) Español (Spanish)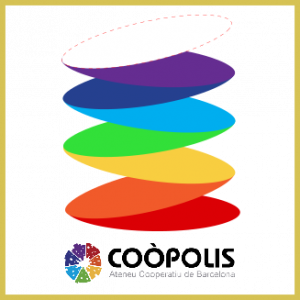 On Monday, February 18th, we will start to draw the future Coopolis Incubation Community, its spaces, management model and organization.
The co-design process, from February to June, will include 14 sessions to which you are invited if you want to facilitate the expansion of the social and solidarity economy and other community models while displacing the capitalist extractive economy.
Proposal of areas: MIGRATIONS // CURRICULUM AND FEMINISMS // COMMUNITY / URBAN COMMONS // USES OF SPACES // BARRIS / TERRITORI // CAN BATLLÓ // EDUCATION AND RESEARCH // INTERCOOPERATION / COOPERATIVE INTEGRATION // CULTURE AND ARTISTIC // RECYCLING / REUTILIZATION / E. CIRCULAR // MOBILITY AND MAKERS // CONSUMER // FREE TECHNOLOGIES
We will be using methodologies that allow us to:
Build a shared imagery of the incubator as a generating device and consolidator of cooperative and community economy
Detect individual and group needs
Define among all the main values ​​sustained by a large majority
Describe the requirements of the infrastructure of the incubation space, technological infrastructure and relations / communication channels.
Establish the organizational structure for the co-management of space and other infrastructures, as well as the technical requirements and capabilities to maintain the proper functioning
…
We want to see, for example, how we can create a transitional device that will help expand and consolidate the space of the cooperative and commons economy. What are the requirements to define the physical space of the incubator in Can Batlló and its (self)management, and its sectorial and territorial action in the neighborhoods of Barcelona beyond La Bordeta, if it has a space in the ecosystem of ESS Barcelona, ​​metropolitan, Catalan, Iberian, Mediterranean, European and international; and how to relate and coordinate with other agents.