This post is also available in: Català (Catalan) Español (Spanish)
The Free and Open Source Developers' European Meeting, FOSDEM, is the largest Free Software event in Europe and one of the largest worldwide. It is a free event organized by the community, for the community. It takes place in Brussels on the first weekend of February.
What started 20 years ago as a meeting of Free Software developers has turned into a large conference with over 800 speakers distributed in 71 tracks. FOSDEM gathers more than 8000 people every year.
Most people attending FOSDEM are Free Software developers, contributors and enthusiasts who want to keep up with the most recent news from their favourite projects. It is a great opportunity to meet other developers and gain insight on the status and future plans of Free Software projects. For many Free Software contributors it is also one of the few opportunities to devirtualize fellow developers they work with.
One of the problems of large conferences with many parallel tracks is deciding which talks to attend. FOSDEM is an extreme case of this, with up to 30 symmultaneous events taking place at any time. Companion apps are very useful to keep track of the talks you want to attend to, and knowing that everything is recorded and made available shortly after the event helps reduce the anxiety of missing a great talk.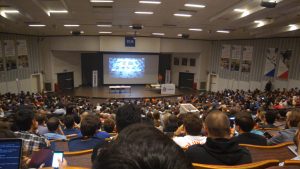 Since a few years ago, FOSDEM has also a capacity issue: many rooms fill up quickly and there is often a queue at the door with people waiting for someone to leave an empty seat. Some people just choose a room and camp there early in the day. Others stay at the bar and follow the talks they want to see via the streaming service.
At femProcomuns, we were mostly interested on Nextcloud and other collaboration tools that we use in our projects. We also wanted to hear about distributed and decentralized communication systems and more general topics related to Free Software, such as public policies, legal issues, and community governance.
All in all, FOSDEM is still the best Free Software event in Europe and maybe worldwide. It is free of charge, community oriented, it has excellent content and is a great opportunity to meet face to face with members of the main Free Software projects out there. Also, you get to drink the best beers and cover your laptop with stickers!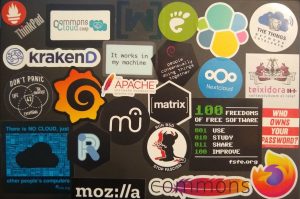 Here goes the list of all the talks that we attended. David Jacovkis is a member of femProcomuns and he live tweeted most of them, you can find all the links to these threads here: https://twitter.com/i/events/1227590766945546240
Collaborative Information and Content Management Applications
ONLYOFFICE: How to securely collaborate on documents within content management applications
A dozen more things you didn't know Nextcloud could do
Bringing Collabora Online to your web app
Community and Ethics
Freedom and AI: Can Free Software include ethical AI systems?
Internet
HTTP/3 for everyone State of the Onion SCION
Freedom
The core values of software freedom
Why open infrastructure matters
Decentralized Internet and Privacy
An Introduction to the Tor Ecosystem for Developers
The Path to Peer-to-Peer Matrix
Building a Web App that Doesn't Trust the Server
MaadiX, your cloud in your hands