This post is also available in: Català (Catalan) Español (Spanish)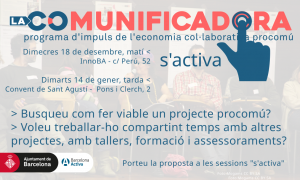 This year we co-ordinate, once more together with LabCoop, the Barcelona Activa programme, to help projects in the collaborative economy transition to the Social and Solidarity Economy and the Commons.
The programme itself will begin in February and will last three months. The spaces for exchange and collaborative growth will be on Monday evening (5pm to 8pm) and trainings and workshops on Wednesday morning (9am to noon).
La Comunificadora gets active in December
In December we will begin with a preliminary phase of project support and definition, open to everyone, which aims to prepare the projects to apply to the programme. There will be 3 thematic sessions in which we will explore alliances between existing projects and resources and try to create teams.This phase ends with an " open consultation day ", with the help of advisers, finishing to define the projects and the details  for them to be selected as participating teams.
What is offered?
At La Comunificadora we work to achieve a series of self-established goals, following the  Model of the 5 pillars of Sustainability of the Commons, and counting on the complicity and participation of numerous actors in the collaborative economy, social and solidarity economy, free culture and technologies, open data, and commons that bring their knowledge and experience or advice to open sessions. The programme includes:
Training and workshops: To give support to the projects in the deepening of the five pillars: communities and communal resources, modes of production, income generation and mobilization of resources and ways of sharing knowledge.
Training: Generating co-organization skills, communication, care and relational techniques for individuals and teams.
Individual and personalized advice from specialists who have the specific knowledge for the development of each project.
A mentor who gives support to the participants according to their needs.
Specific technical support in the event that the project requires it for its evolution.
The participating team receives and mentors other participating teams, leveraging the group's internal capabilities.
The programme is aimed at groups of individuals and individuals who want to participate in transforming the economy with collaborative projects with a strong community dimension. We will work on the opportunity to scale up and use resources, which allows the adoption of new working methodologies and digital technologies, without losing sight of the ethical framework of the Social and Solidarity Economy and the commons.