This post is also available in: Català (Catalan) Español (Spanish)
We will be meeting on September 22nd at the Lleialtat Santsenca to share the commons approach we have taken – through the Transitioning Ecosystem project – on different areas, relevant to life and social and environmental sustainability.
This is a session promoted from the Cooperative Activity Group (GAC) Transitioning, the last of a cycle of sessions to work collectively, on challenges related to key areas of the economy: energy, territory, water, food, health, care, culture, housing, mobility…, from the point of view of production, supply and environmental impacts, with a Commons perspective (guided by the Commons Sustainability Model but willing to learn and incorporate aspects of other models and artefacts) and with the participation of diverse actors, from Catalonia and beyond.
In the commons socioeconomic model, people organize themselves to solve needs and challenges from a community and sustainability logic. The commons is a model of social and economic organization together with the market and the state. Adding to the numerous cases of production, reproduction and management of the traditional commons that have been sustained over the years, technological, urban and cultural projects have been launched in recent decades, some of which use free and open licences, with distributed and democratic production, reproduction, management and decision-making models. They are different projects from each other, but they share some principles and qualities.
This last year we have worked with several organizations and groups, in sessions throughout Catalonia, focusing on different areas and working with a methodology that puts the community at the center. Now we want to present the results and conclusions of this process.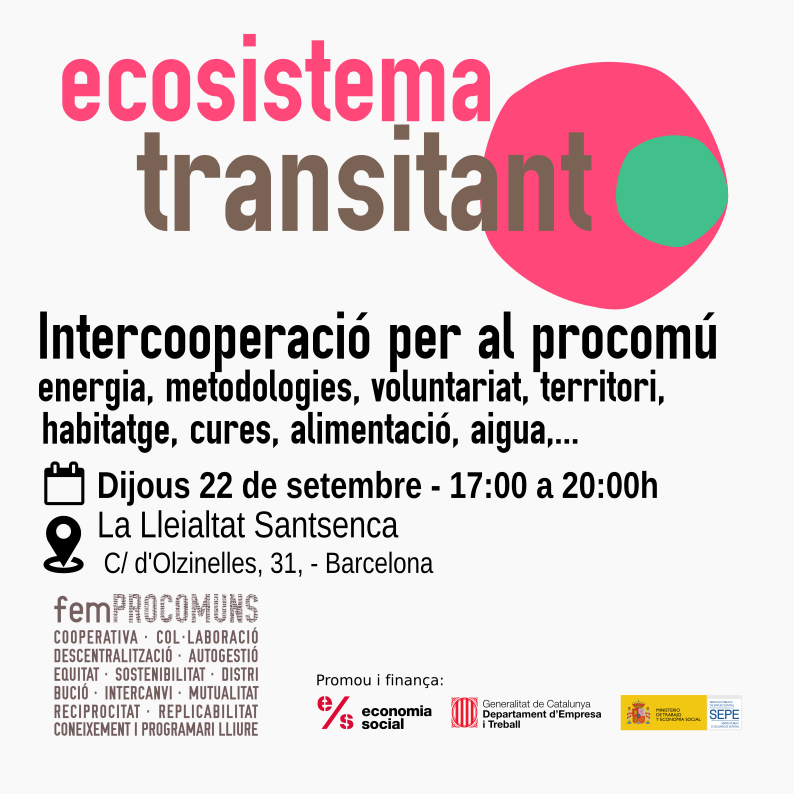 The people and entities that have participated in the various work sessions, and that have analysed the various sectors through the Commons Sustainability Model, will share their thoughts and their learnings and will explore ways of intercooperation guided by the same model.
We have seen the energy and the local energy communities, at the Espai Tarragona Impulsa, in Tarragona; we have analysed the methodologies of the commons, at the Ateneu Coma Cros in Salt; we have dealt with the role of volunteering, in Can Fugarolas at Mataró; we have talked about territory at Casal La Llavor, in El Prat de Llobregat, we have examined housing, at Núria Social in Olot, and we have addressed care, at Casa Flor Sirera in Manresa. We will also explore food, at Espai Pomecia in L'Hospitalet; and water in Olesa de Montserrat.
The session will take place in Room 01
La Lleialtat Santsenca
C/ Olzinelles, 31 Barcelona,
Thursday, September 22 – 5:00 p.m. to 8:00 p.m.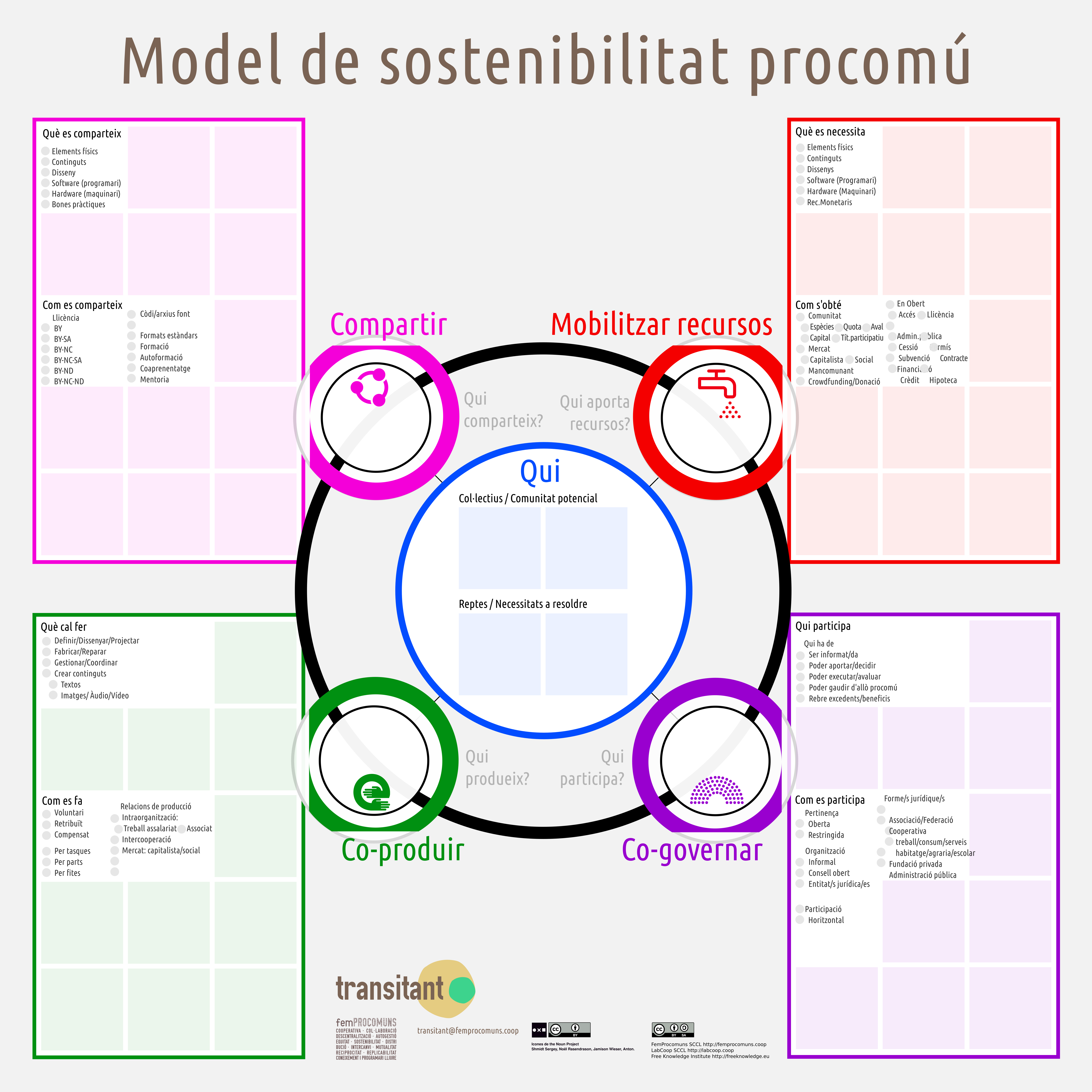 What is the commons, the Transitioning Ecosystem process

Presentation of the conclusions of the process:
Energy – Methodologies – Volunteering – Territory – Housing- Care – Food – Water

Solbrai – Pinell de Brai energy community- Albert Calomarde (Azimut 360)
Can Fugarolas – Workshop for social and sustainable repairs in Mataró – Eddy Roca
Salvem L'Olla del Rei – Platform for the defence of a key natural area for the diversity of Castelldefels – Judith Siches
Can Tonal de Vallbona – Social and community project in Baix Montseny – Sindara Moreno and Joan Agea
Cuidem Lluçanès – Cooperative of care services for people – Helena Vilà
Súper Coopera – Solidarity and cooperative supermarket in Sabadell – Feliu Madaula
Comunitat Minera Olesana. Olesa Water Supply Cooperative – Joan Arévalo

2nd part
Ways of intercooperation through the perspective of the commons in tables.
We hold this session within the framework of the Transitioning Ecosystem project, with which we want to get to know several projects -with a community dimension and shared self-management in Catalonia and exploring the Catalan commons with a more ecological, democratic, feminist perspective in sectors such as energy, land stewardship, water, food or care.
Financed by line L2 Singular projects to promote the social and solidarity economy, creation of cooperatives and intercooperation projects, of the Government of Catalonia, Department of Business and Work. General Directorate of Social and Solidarity Economy, the Third Sector and Cooperatives.