This post is also available in: Català (Catalan) Español (Spanish)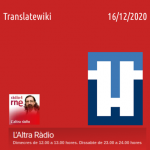 Free software has been very important for minority and minoritised languages, because thanks to it, we don't depend on the interests of a commercial company in order to have a programme in our own language, this is why we have spoken about Translatewiki in our regular contribution to the radio programme l'Altra Radio.
Free software is important for languages such as Catalan, but also Basque, Galician or even for languages with many speakers, but which may not be in the strategy of corporations, such as Arabic or Urdu.
Initially, in order to translate, it was necessary to have the specific knowledge to access the code or some translation files attached to it. Now it is possible to contribute to these files from easy-to-use web platforms, such as Translatewiki.
Translatewiki was created in 2006 to translate MediaWiki, the programme used by Wikipedia, which had been launched in 2001. Currently, Translatewiki is used to translate 50 free software projects, and there are 218 active languages. All Wikipedia related projects can be translated, such as MediaWiki or Wikidata and also others such as OpenStreetMap (cartographic database) or Etherpad (collaborative text editor).
To contribute, go to Translatewiki.net, register and enter the languages you want to translate into, validate the address you have entered, and validate yourself as a contributor by translating 10 random strings from different projects. Once you are validated, you must choose the language in which you want to translate, in the upper part of the "Translate to" window, go to "Translation tools", in the side menu, and choose the project you want to translate. Here you will see the translation percentage of the "core" (the portion of the software that makes up the basic functionality) and the rest of the modules of each project. You will see the string (text fragment) that you have to translate and a box to write in. On the right side you get suggestions, based on previous translations and translation tools such as Apertium. If you don't know how to translate that string, you jump to the next one and if you know how to translate it, you save it.
At femProcomuns we contributed to the translation of Phabricator
Phabricator is a project management programme for tasks, used by the Wikimedia Foundation but also by organisations like KDE. We also use it and offer it within our cooperative CommonsCloud services. On 17 March, just after we started our confinement, we organised an online translation session. A 6% was already translated and we made it grow to a 10% in only 2 hours and 5 or 6 people, some of whom had never used it. The "core" reached a 30% translated and some modules went up to 100%.
This is just an example of how far you can go by putting a bit of time into it and how we can motivate ourselves and solve doubts by doing it together. The advantage is that everyone can contribute in the languages they know, translating the parts they know and all the contributions add up, so we can have the software in everyone's own language and make sure that language is not a barrier to using a project. There are several Softcatalà tools that can help us translate into Catalan, and we'll talk about that another day.
Since March 2017, we have been regularly contributing to the programme L'Altra Radio hosted by Cinto Niqui. You can listen to us on the programme's website. L'Altra Radio makes audiovisual culture available to everyone. It deals with Information and Communication Technologies and their impact on contemporary society. Radio, television, internet and applications are the main characters of this magazine born in 1980, with more than 2200 programmes on air.