This post is also available in: Català (Catalan) Español (Spanish)
The 4th edition of La Comunificadora comes to an end, this Monday, May 4, with the already traditional session La Comunificadora Punt i Seguit (new paragraph), in which the programme's friends and team (tutors and advisers) and participating projects are invited. They will assess their passage through La Comunificadora, their evolution since the 3-month training programme began, in February, and will explain the roadmap they have set for themselves.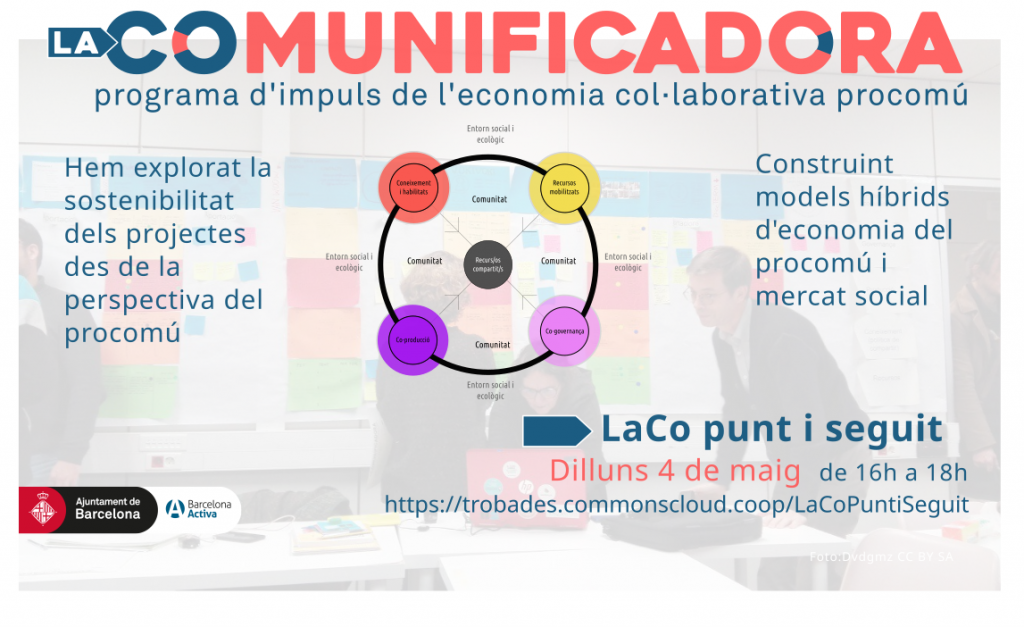 This time, the circumstances of the crisis around Covid19 mean that the challenges, both for the programme and participating projects, have been greater and more complex than ever. Each and every one of us individually, have been affected by the pandemic and confinement, and this has also affected the schedule of the programme, which has been slightly adapted, and we have also been able to complete as we had set out to do, the three iterations of the 5 Pillars of the Commons and we have worked on all the planned canvases. The pace of work has also changed, some participants have had to semi-freeze their project and will resume it when the "new normal" allows them to do so, others have had to rethink it and for some others the situation, even with its difficulties, has allowed for greater involvement in the programme. However, the 9 participating projects have reached the end, and on April 20, each project was presented in the session of La Comunificadora en Obert, online. Participating projects were as follows:
DadESS Open data hosting platform and community of entities that want a Social and Solidarity Economy (ESS) with knowledge on the use of data and to find collective solutions for machine learning, automation / optimization of processes and improvement of customer services through the exploitation of data.
DogCaring Community for the care of domestic dogs, the people they live with and the people who walk them.
Favors Using digital and physical tools, this service brings people of different generations closer through exchanging time between them, where the excess time serves as an exchange unit, and it also includes local businesses and entities.
Holidays Exchange Coop Cooperative for the temporary and non-commercial exchange of housing around the world, taking care of the ecological footprint. Users, offer their home, and workers own the platform.
La Masovera Real estate platform of alternatives to access housing. It provides services to landlords and tenants through three alternative ways of accessing housing: urban farming ('masoveria') (use in exchange for reform), temporary purchase (for an agreed time), shared purchase (by public or non-profit entities)
Nala Artifact (technological, scientific and social / community) to combat cyber-machoism and cyber-harassment on social media, specifically Twitter. An educational and analytical tool for designing and evaluating possible interventions and policies.
REVOL5G Scientific / social / community experiment to show that another model of urban mobility, with criteria of efficiency, equity, balance, accessibility and environmental and economic sustainability, is possible.
SADESS Initiative to transform the current model of Home Care Service for dependent people by building care relationships within communities, based on co-responsibility and participation.
Som Ràdio Escolar A network of school radios from Catalan Countries (Països Catalans), managed horizontally, so that local and community radios, students and teachers, can chart a common path and share the radio knowledge that is born in each educational experience.
These projects are now in the process of becoming hybrid models of the commons economy and the social market, and have been able to explore their sustainability from a collaborative and commons perspective.
As in each edition, the work done in the program is collected in the project folders in CommonsCloud and documented in La Teixidora,, with images shared on Wikimedia Commons i Archive.org.