This post is also available in: Català (Catalan) Español (Spanish)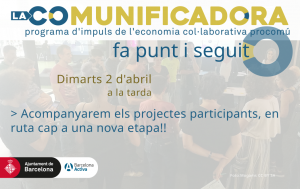 On Tuesday, April 2, from 5 to 8 in the afternoon the third edition of La Comunificadora comes to the end of the programme, but the story continues, because participating projects will be ready for the roadmap they have prepared in the last few months with the help of mentors and advisors.
We will know about the projects that have participated in the third edition of the programme. They will explain what differentiates them from others, how they have evolved and their roadmap. The session, open to everyone, will contextualise the projects within the framework of a collaborative, social and solidarity economy oriented towards the commons, cooperation and social equity.
We will spend some time collaboratively evaluating, in different groups, the different aspects of the program and rethinking how the support and incubation of this type of projects should be.